July 29th, 2020
My blog postings have mostly been about writing fiction books, in particular mystery fiction books. Other interests and thoughts creep in now and then; but the focus has been the writing. I would anticipate that to be true going forward; however, I have a renewed interest in my art. Many things that related to indie books also fit into the indie art world. The largest common factor is on-line marketing. Unknown writers and unknown artists share this wonderful vehicle for promotion and sales and also share the burden of this monster that captures every free moment of your time.

The oldest artwork, that I still have, is dated almost fifty years old. Not ancient as a lost artifact, but still pretty damn old. No internet, few computers; a different world. Does that change art? Well of course it does. I have done some digital art that obviously did not exist back in the day. Also, I believe we are much more attuned to images today than the past. Not that paintings were not great images of all sorts of things, but the common place use of images for everything is relatively new. We are now bombarded with images ranging from informative to titillating.

One of the great pleasures in reading books was the need to develop our own images of what we were reading. The author could lay out all sorts of descriptions of events or people in the book, but it was up to the reader to turn those words into pictures in our heads. One reader could imagine Blackbeard the pirate as something entirely different than the next reader. We created the image that had meaning to us. Sort of private movies.

Today we imagine less and are exposed to more images. Some of these, created-by-others, images are ones we would have never developed for ourselves. We have become not the creator of visual images, but the recipient of someone else's opinion of what we should see. It is no longer our world, but one we visit; often with trepidation.

When I create art, there is often a story in my head about that art. "A hot summer day in the desert with the intense sun making everything look extra bright and bold, while my thirst increases with each minute waiting for someone to find me lost is this burning hell." The result—a painting of a cactus with tumbleweeds hanging around in a menacing fashion.
On the other hand, when I'm writing, the pictures form in my head and I can see my character (Vincent Malone) walking down a cobblestone sidewalk in Santa Fe anticipating a cold beer in his favorite dark bar; anticipating seeing his new love interest Nancy. I see him walking with a sly smile on his face and I feel like I know him.

Albert Einstein is quoted as saying, "If you want your children to be intelligent, read them fairy tales. If you want them to be more intelligent, read them more fairy tales."

The exact meaning of that statement can probably be argued; but to me it says intelligence is more imagination than learning facts. I worry that we may not be developing our imaginations to the degree we could. I remember having my mother read to me and closing my eyes and seeing the story she was reading. It was alive to me in great detail. Later, as a very young artist, some of those thoughts became my first drawings.

I'm sure we have all met people who say they are not creative. I don't believe that is true. Everyone is and can be creative. I think many don't try because they think there is a standard that they would not be able to meet. That is nonsense. There is no "right" art or "wrong" literature (although there are a lot of grammar rules related to writing; there are no rules related to the content of the story).

My art and my books live in the same world. It is telling a story. Maybe with words or images, but it is still conveying an emotion about our connections with others and the world. And most importantly, it is about not letting other opinions about your story interfere with telling it. Even though someone might give my books a bad review (yep, that happens); I like my story and my pictures. If others don't, well that is just too bad. After all, it's my private movie not yours.

Now the part I don't like is the on-line marketing, but that is another story.

July 13th, 2020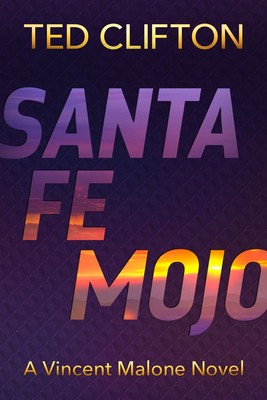 During the 80s my big bucks job working in the oil and gas industry was going down the tubes. I was born in Oklahoma City many, many years before and here I was 40 years old and still in the same town. I was going to be an artist when I started college, but instead became a CPA; and yes, those things are not compatible. The benefit of crunching numbers was that you could make good money and there was always a job. Now the oil field was collapsing and my future was not bright. It was time for a change.

After some searching I accepted a job in Las Cruces, New Mexico with a regional propane company. When I first visited Las Cruces I thought it was ugly, barren and a little strange. But I was done with Oklahoma and needed a job. That was the beginning of a love affair with all things New Mexico; especially the desert plants, flowers and, of course, the delicious food. I moved to the desert because I needed work; but something wonderful and surprising happened.

I was inspired like I had never been before to create art. My art had been dormant since my early years in college but New Mexico made me want to paint. My obsession became cacti and tumbleweeds. For the next twenty years or so I became a productive artist. I was doing acrylics on canvas, watercolor, wood carvings--everything seem to be working for me. I had never been this productive as an artist before or since. Much of the art that is available here is from this time frame.

Later my wife and I moved to Denver. Once my working commitments became less time consuming I have been writing mystery books. Most of the books have a connection to New Mexico and Santa Fe. That move to Las Cruces to escape a troubled oil economy has inspired an impressive output of art and books. I hope you enjoy my "stuff"; and check out my mystery books on Amazon or www.tedclifton.com.